Starpoint is finally here!
The Starpoint Reformed Youth Festival is officially underway in Mezőtúr! In spite of the heat, Hungarian youth and international participants both swarmed to the city Tuesday afternoon ready to kick-off the 6th Starpoint festival.
Everyone that arrived by train was welcomed by the beautiful playing of a Starpoint brass ensemble before hopping on a bus to the festival grounds. Most of the day was set aside to register, explore the grounds and for everyone to establish their temporary residences for the week. The festival camping-grounds continued to fill-up from the steady stream of arrivals until there were tents as far as the eye can see. In the evening, Laszló Thoma gave the opening worship service on the festival's main stage. His sermon, based on Psalm 90, introduced the week's overall theme of Identity.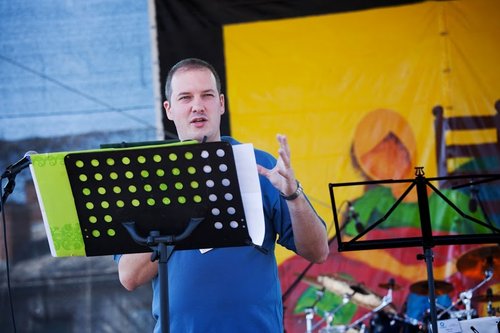 Wednesday saw the start of normal programming with morning devotions before breakfast followed by a main worship service with a keynote lecture by József Csomos Jr., small groups focused on the lectures, afternoon workshops, an evening worship led by Levente Horváth, and everything ending with awesome nighttime concerts. There was even a special performance of Korean dance by visiting members of the Presbyterian Church in Korea as well as the distribution of traditional Korean teas.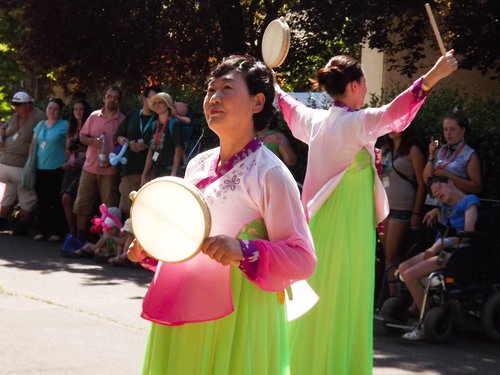 An international group, made up of 23 young people from nine countries, has been able to dive right in to the Starpoint experience thanks to English interpretation of the main worship lectures, English-language morning devotions and English-speaking small groups during the afternoons.
Exploring your own personal identity and strengthening your relationship with God are two main focuses of this year's festival, but another wonderful aspect of this event is its ability to bring different people together from many walks of life.
"There are so many nice people that you can meet at Starpoint, or if you want to, you can just lay in the sun and be inspired by the words that come to your mind. You are free to be who you are. And the most important thing I can get from this week is a new impression about how God, my life and my identity fit together," said Sebastian Narhofer a youth delegate from the Church of Lippe in Germany.
This year's Starpoint is only possible because of the hard work of more than 900 volunteers, and continues through Saturday afternoon with concerts, dramas, worship services, devotions, small group discussions, sports, fun and fellowship.
Amy Lester